About HEXaREL TM
HEXaREL™ is creating exponential growth in textile industry because of its magical features & performance benefits. It's incorporation in fabrics enables extra ordinary performance benefits like cool to touch, anti-bacterial, anti-viral, anti-odour, antistatic, better absorption and wicking of water, thermal regulating effect and ultraviolet protection without compromising the hand-feel, texture, and visual aspects of the final fabric.
Thanks to Reliance's cutting-edge R&D, HEXaREL™ - enhanced fabrics offer a unique combination of extraordinary properties never seen before together in a single fabric/garment. This superlative combination of advantages will make these fabrics / garments multifunctional responsive and adaptive.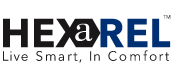 Versatile in application
HEXaREL™ enhanced fabrics are used in diverse applications like Sportswear, Athleisure, Outdoor wear, Work wear, Fashion wear & apparels etc across various textile segments . HEXaREL™ empowers unique combination of advantages across applications in garments & technical application.
Springboard for Innovation
HEXaREL™ - enhanced fabrics enable fabric/apparel innovations that could only be dreamt of, before. Giving an actual physical shape for your innovations.